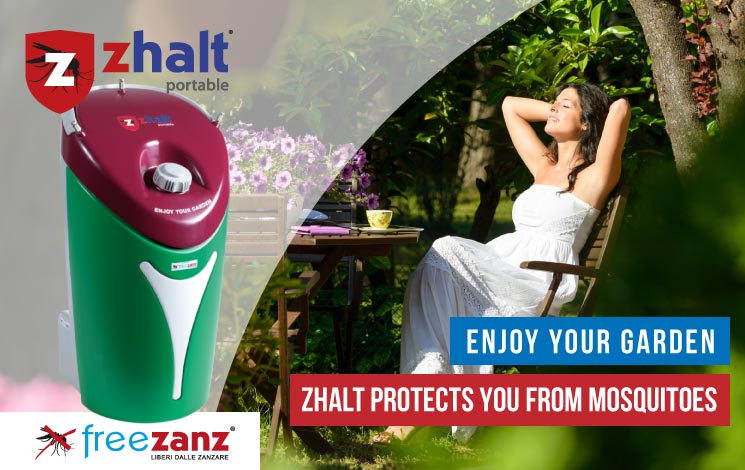 Zhalt Portable is a portable mosquito repeller device with misting technology. Battery powered, it can be recharged with the battery charger included. It is able to protect against mosquitoes and other annoying insects an area of about 150 sqm (1) with only 2 cycles of 3 minutes a day.
Semi-automatic planning (every day it automatically repeats the planned cycle). It can be remotely activated thanks the handy remote control included.
Thanks  to the powerful battery and the wide 8 liters tank you can enjoy a dynamic and durable protection of your garden for about 20 days with no need to recharge (2).
You can freely move and position Zhalt Portable everywhere in your garden or your terrace. Thanks to its battery functions, you won't have any electric cables lying around or extension cables to carry with you.
Use it every where you want: in your garden, on your terrace, whilst camping. Thanks to its small dimensions you can bring it with you on your camper or to your beach house or country house.
Instant result: 3 minutes of misting with the knock down product are enough to free the area from mosquitoes.
LIGHT WEIGHT AND SMALL DIMENSIONS
FREE FROM MOSQUITOES GARDENS AND TERRACES UP TO 150 SQM
BATTERY POWERED, YOU CAN MOVE IT WHERE YOU WANT AND HAVE UP TO 20 DAYS OF OPERATING TIME
USE IT WHERE YOU WANT, EVEN CAMPING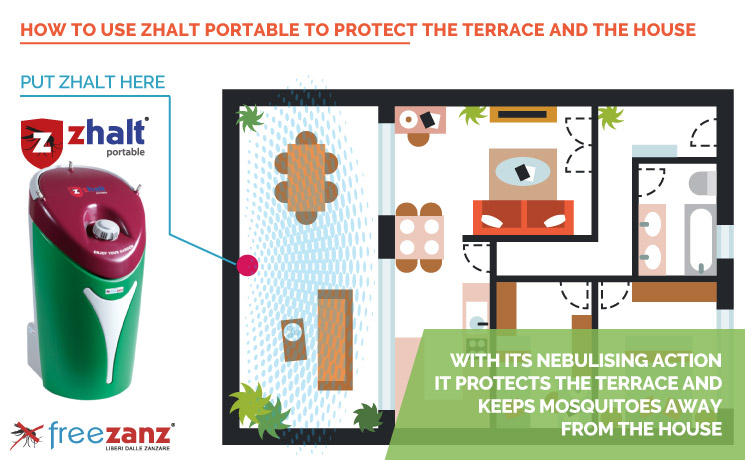 ZHALT PORTABLE ACCESSORIES AND PRODUCTS
INCREASE THE POWER WITH EXTENSION KITS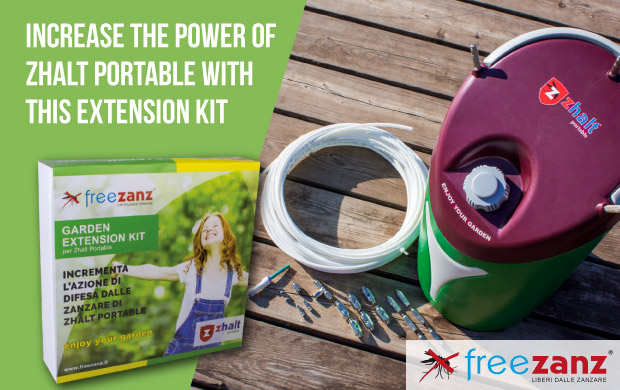 Increase Zhalt Portable's defence against mosquitoes with the practical Extension Kit that comes in an easy set-up box. It is a range of accessories, studied by Freezanz specifically for the use alongside Zhalt Portable. With this kits you can increase Zhalt's efficacy and create a small mosquito-repellent misting system for your garden, on your terrace or next to your tent whilst camping or during a stop with your camper. Setting it up is very easy and thanks to the rapid hooking system there is no need for particolar tools.

GARDEN EXTENSION KIT
A Do-It-Yourself kit, specifically created for Zhalt Portable, that allows you to get a 25 meters pipe and 6 nozzles, misting system. Installing the kit you can increase Zhalt Portable protective action creating a real barrier against mosquitoes in your garden, terrace, patio, etc…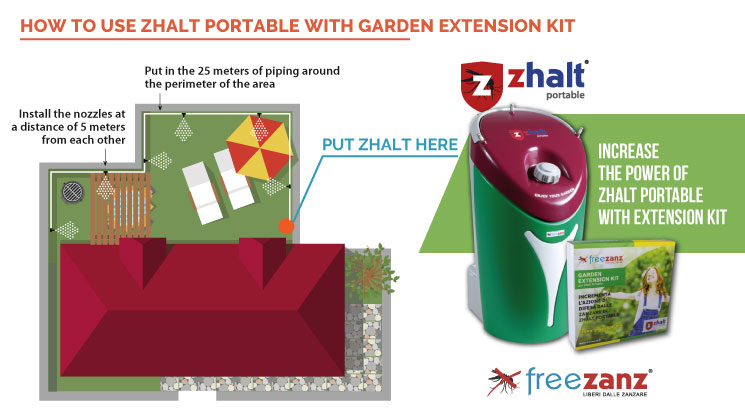 (1) with a maximum of 1 cycle of 3 minutes of nebulization per day.
(2) the values refer to the use of Zhalt Portable with the tetrapiù multipurpose product, they can vary according to the infestation of mosquitoes in the area to be treated.