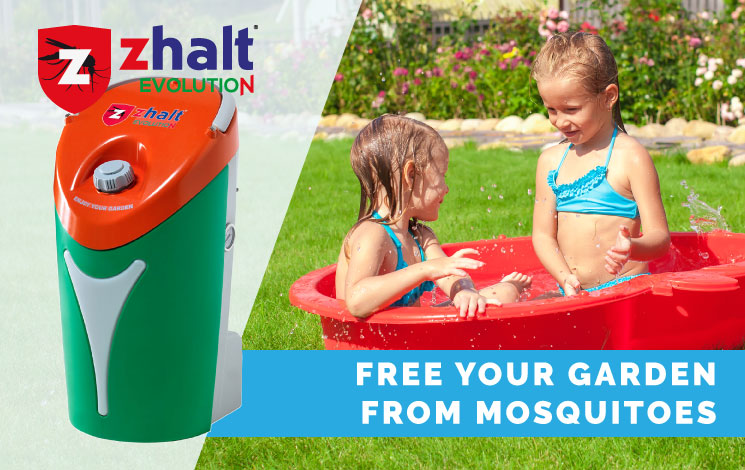 Zhalt Evolution is a real automatic Mosquito Repellent System, sold with an assembly kit, which will allow you to rid your garden from mosquitoes and other annoying insects. Thanks to specific products, some all natural, specially formulated for Freezanz systems, you will enjoy an effective and safe protection against mosquitoes.
MIST TO SAVE
Thanks to the mist of the products mixed with water and the regular cycles performed during all the day, very low percentages of product are used compared to the standard pest. Its action doesen't fear rain or irrigation, because the treatment is repeated every day with regular intervals.
Place Zhalt Evolution in a closed and sheltered room.
Connect it to a power outlet (220 volts) and a water tap.
Stretch the pipe around the perimeter of the area.
At a regular distance (4 – 5 meters recommended) cut the pipe and connect a spray nozzle.
Complete the installation with one last nozzle.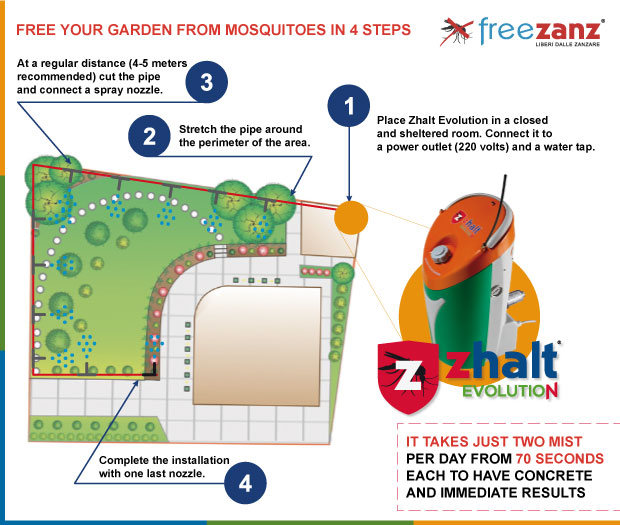 DIY INSTALLATION
Zhalt Evolution is sold with a basic kit of componets that will allow you to immediately realize a mosquito-repellent misting system with 10 nozzles. Zhalt Evolution supports up to a maximum of 40 nozzles and 200 meters of pipe, which can effectively protecy an area up to 1.200 sqm..
Thanks to the additional kit you will be able to expand the dimensions of the standard system (maximum 3 "Expanding Kit", sold separately) each kit includes 50 meters of pipe, 10 nozzles, juctions and hardware. Installation and assembly is real simple and affordable for everyone. It doesen't require special equipment or tools and the included hardware will allow you a successful installation along a network fence, a wall or a hedge..
Zhalt Evolution has to be placed inside a closed and protected environment (garage, cellar, etc…) and connected to a common 220-volt outlet and to a water tap. Once installed and programmed, it works automatically without any manual intervention.
ZHALT EVOLUTION EXPANDING KIT
Thanks to the Expanding Kit you can increase the surface of your garden protected by Zhalt Evolution. The kit was specifically created for the owners of Zhalt Evolution and allows to have 50 mters of pipe and 1° additional nozzles compared to the base Kit supplied with Zhalt Evolution. It is necessary to remind that Zhalt Evolution can support maximum of 200 meters of pipes and 40 nozzles so it possible to install a maximum of 3 additional Expanding Kit to do not exceed the system allow capacity.
QUICK AND EFFORTLESS INSTALLATION
Follow the instructions in the manual inside of the package to immediately increase the dimension of your Mosquito Repellent System. There is no need of specific tools, thanks to the junctions' quick coupling joints the connection of the various components is quick and simple and, in a few minutes of working, you will be able to enkjoy your open air spaces in total relax without the annoying presence of mosquitoes.