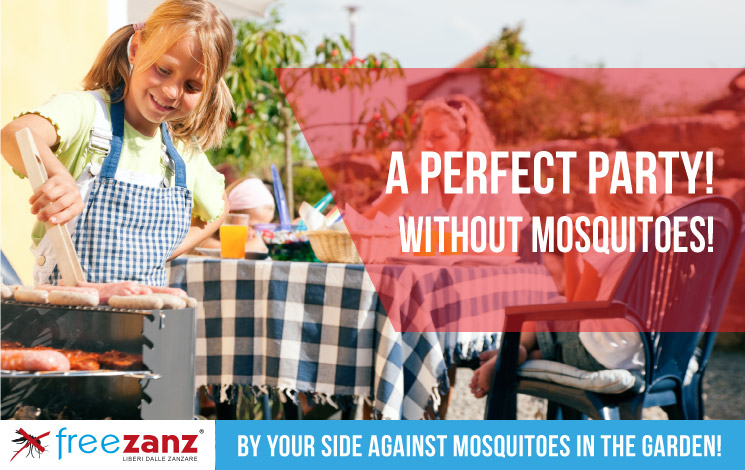 Freezanz plans, fulfils and installs the latest generation mosquito misting systems, studied and tested to protect the outdoor, and not only, against insect.
Thanks to several on-field tests and laboratory studies, with the collaboration of companies specialized in the field, we are able, through the installation of a Freezanz system, to eliminate, or significantly reduce, the insects in your garden, reducing to the minimum the usage of the product.
Releasing the product, a few milliliters for one or two minutes a day, during the night, or in any hours agreed with the customer, when the area is not frequented, we can install our systems, without affecting the health of persons, children, animals and plants.
Freezanz automatic misting systems, thanks to the micro-nebulization, with the same surface, need a product quantity lower than 1/100 compared to the traditional disinfestation methods.
Furthermore Freezanz professional misting systems are able to fully exploit the efficacy of the utilized products, since the blend is created right immediately before the release, eliminating the decay problems of the traditional disinfestation methods, that need a big amount of blended product and to transport it on the area to treat. This permits Freezanz systems to utilize a percentage of product way lower than the traditional methods, granting at least the same results.
Also the atmospheric agents related problems to which traditional disinfestation methods are very exposed, are considerably reduced with Freezanz systems, because the automatic and daily management of the mistings doesn't ket the product efficacy to be compromised by rain or irrigation systems presence.
SMALL DOSES FOR A BIG RESULT
The treatment of an area of about 1.500 sqm with traditional disinfestation methods, requires an average of 1 liter of product every 15 sqm. So about 100 liters of blended products will be released in the area.
A Freezanz misting system utilizes, for the same area of 1.500 sqm, about 10 ml of product diluted in 1 liter of water.
WE USE PRODUCTS THAT RESPECT THE ENVIRONMENT AND THE PEOPLE
The Freezanz misting systems micronize specific products, based on scientific research, some from natural origin. Are they safe?
We are sure of the products we use in our misting systems. We have selected our products carefully and professionally, however, even if really nebulize low in percentage, could cause allergic reactions to the respiratory or skin pathways in some people or pets.
Our systems instructions, for your safety and your pets, advised not to stand near the nozzle when spraying. We must recommend to "Do not mist in the presence of people, pets or food."