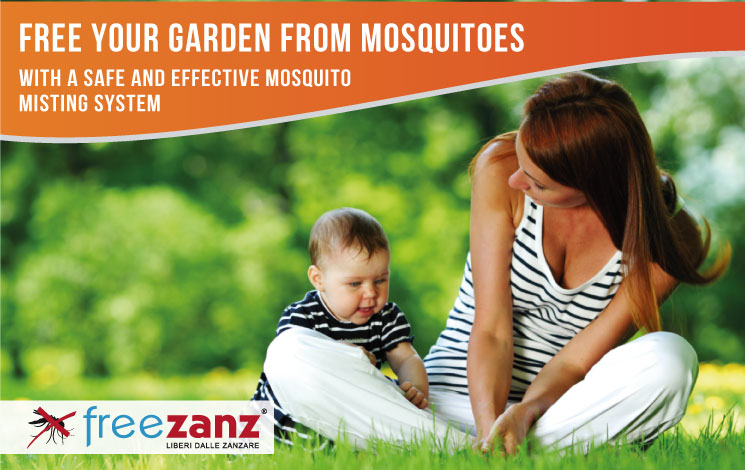 With thousands of mosquito misting systems installed throughout Italy and in other countries, Freezanz Systems is a solid company that is constantly striving for research and development of increasingly reliable and effective solutions in the fight against mosquitoes.
What for the others is FUTURE, FOR US HAS ALREADY PAST!
Our mission is to produce effective and safe mosquito misting appliances that, with contained costs, are able to control and limit the number of mosquitoes present in the areas where they are installed. A Freezanz mosquito control system is an investment that will allow you to improve the quality of your life and your loved ones in the garden.
FREEZANZ SYSTEMS: EXPERIENCE, RESEARCH, DEVELOPMENT
We have fulfilled, planned and created our mosquito misting systems basing on the request of people, like you, who want use their garden without the "mosquitoes nightmare", trying to meet the needs of those who own a small garden around their propriety with Zhalt products, as we tried to meets the needs of the owners of vaster and wider gardens and to all the range of accommodation and general tourist facilities (hotels, restaurants, pizzerias, cafes, open spaces, etc) that every summer see their customers annoyed by mosquitoes damaging their image ad getting reviews.
PEOPLE ARE AT THE CENTER OF OUR ATTENTION
Our systems are the result of Freezanz continuous research into the automatic misting systems field.
Products born from the experience gained through years of study, development and installation of misting systems, with hundreds of plants in operation throughout Italy, which has led to the birth of Zhalt Portable, the effective and easy to use portable misting system, ideal for small gardens up to 150 sq m and subsequently to Zhalt Evolution, a logical continuation of this project. A small, but powerful, misting plant, sold with its kits, able to support an effective and safe protection for gardens up to 1.500 sq m.
The innovative technology and the modularity at the base of our professional systems (Garden System and Park System) permits us to lead its protection even on areas wide more than 10.000 sqm.
Freenzanz System srl
Headquarters
Address: Via Fossa Nuova 104
Zip Code: 56038 - City: Ponsacco - Province: Pisa
(Italy)
Operational and Administrative Headquarters
Address: Via Rospicciano 134
Zip Code: 56038 - City: Ponsacco - Province: Pisa
(Italy)
Tel. +39 0587 608424
info@freezanz.it
commerciale@freezanz.it